Enjoy Scuba Diving with Paradise Diving Bali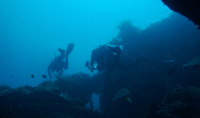 Diving with us in Bali means a Carefree Package:
very friendly team, well organised, already 20 years experience in Bali
dive with german-speaking diving instructor or our balines professional diving guides (english speaking)
Shuttle service to your destination in comfortable cars or climatised bus and a nice driver
Briefing and de-briefing in German (or English) language
seperate courses for starters and professionals
Diving in small groups
Lending of diving equipment and accessoires
climatised storage space for equiment, also for your own diving equiment
Tea, coffee and bottled water for free for our guests in our diving base
clean sanitation according to European standards
we also organize activities not related to diving - ask us
We are specialized on german divers. Daily diving and snorkling with pick-up at your hotel. We are looking forward to your requests. You can also call us or visit our Dive Center between 09:00h to 18:00h daily.
Diving - a trendy sport also in Bali
The Diving Sport is booming internationally! Experts estimate that in Germany alone there are about 1,000,000 divers. German diving schools are everywhere in the world and compared to the home waters the Indian Ocean, Red Sea or the Carribean offer much better opportunities for diving, so most sport divers prefer to dive during the holidays abroad. The waters around Bali are parts of the Indian and Pacific Ocean and offer a wonderful diversity of fish and corals.